Sharing the safety vision
4 minutes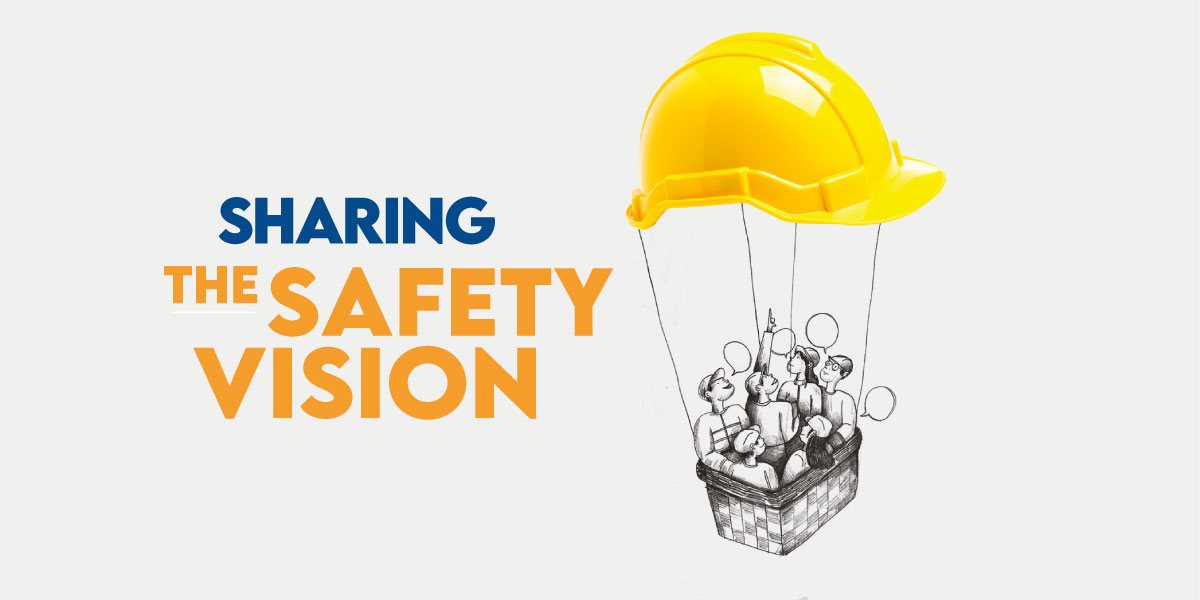 Now that you have identified what your future safety goal is, it is time to share it, and enrich it with feedback from the field and discussions within teams. In short, you need to bring it to life. 'Sharing the safety vision' is the 2nd principle of leadership, and it will encourage buy-in and commitment from teams.
Why is this important?
You might have thrown yourself into defining what you think is the best vision of safety, but if you are the only one who knows about it, nobody else really understands what you are talking about, and your teams feel that they have no say in what happens, your efforts will have no effect. So, you have to talk to your colleagues, and take advantage of every moment spent in the field to find out what everyone else thinks is important in terms of safety.
How do I share my vision of safety?
Sharing the vision means being able to give meaning to safety messages and actions, and encouraging honest, open debate. It also means knowing how to communicate in different ways depending on the target level and function within the company, in order to reach the hearts and minds of employees.
Fortunately, a safety vision is not set in stone! There must be room for maneuver, and teams must be able to adapt your vision to their needs and their level, to make it their own.
To do this, it is up to safety leaders to:
Identify key opportunities and make the most of them to encourage feedback and dialogue about safety
Deliver a safety message that engages people
Use communication efforts to support more participative management
Regularly remind colleagues of safety objectives, and the challenges that still remain
Repeat the same messages to maintain awareness, motivation and commitment
Promote good practices, encourage and support initiatives
A quick look at 3 key opportunities to share the safety vision
From the newcomer's familiarization briefing, through to more informal opportunities, any time is a good time to talk about safety! Like any new habit, little and often is the best way to make progress. Regular, consistent small actions are more effective than intense efforts. As the saying goes, tall oaks grow from little acorns.
If you adopt this attitude, each visit to the field becomes an opportunity to talk about events or safety news, to learn lessons, to discuss a specific risk, talk about any changes or decisions that might impact the safety of the team, or share a personal experience that is relevant to the work of your colleagues.
The safety chat
The safety chat – whether a minute each day, fifteen minutes each week or month – is a great tool to discuss safety, starting with a message, an image, feedback, or personal experience. Don't forget that these chats are not just for operational teams: support functions also have risks (electrical, slips, trips and falls, etc.): it is always useful to ensure that everyone is aware of the risks.
The safety chat is an opportunity to:
share messages about a safety theme or feedback from an unwanted event
encourage the group to contribute, ask about their first-hand experience
work on team cohesion, and align what is said with safety practices
The briefing
The briefing is held just before an operation begins. It is an opportunity to share the details of the situation, and is essential to ensure safety. During a briefing, you can:
talk about what there is to do and how to do it, identify the major risks
encourage feedback, anticipate any hazards and potential disruptors
ensure the existence and follow-up of prevention actions focused on the specificities of the operation and its risks
Welcoming new colleagues
The manager's first words about safety set the tone for everything that follows. This is your opportunity to:
share safety values, explain the safety vision and give it meaning
demonstrate your own commitment to safety, and show that you expect the new recruits to also make a commitment to safety
encourage transparency about potential difficulties or errors
>> Last but not least, it should be noted that these opportunities are not necessarily the domain of the manager. While the leader can initiate them, so can anyone else. You could say it is even good practice, as a way to encourage a commitment to safety, and keep the discussion going.

Using participative management to share the vision of safety
What is participative management? It is motivating employees. It's their engagement. A committed employee is five times less likely to have an accident, and seven times less likely to be absent due to injury. To motivate employees: they can identify risks, participate in assessing hazards, contribute to the analysis if an incident occurs, supervise newcomers, or show their peers how things are done, etc. This not only improves cross-supervision, and communication between employees, but also between frontline managers, middle managers and employees. Ultimately, this improves methods, processes, motivation, morale and job satisfaction. People are happy to come to work. It's a safe place, they're committed, engaged.
Dominic Cooper, B-Safe Management Solutions (USA)
| Read more about the 7 principles of safety leadership |
Articles on the same topic